As expected, public transport fares in Victoria go up from 1st January. This time it's a CPI rise of 2.2% – thankfully not as high as the last four which were CPI+2.5% (budgeted by the Coalition in 2014, delivered by Labor).
This takes the standard zone 1 or 1+2 daily fare to $8.80, and the 2-hour fare to $4.40.
It's worth noting that for short trips in zone 1, this is now precisely double the $2.20 Sydney tram or bus Opal fare for up to 3 kilometres.
The fare rules are a bit different – Sydney's free transfers are generally limited to the same mode within 60 minutes, and the daily cap is much higher (except on Sundays).
(The short distance single zone Go Card fare in Brisbane is $3.25 peak, $2.60 off-peak. In Perth the Smartrider fare is $1.98 for two "sections", or $2.79 for one zone.)
It turns out that the fares in Sydney in most cases are lower than Melbourne's standard $4.40.
Sydney tram/bus: $2.20 for up to 3km, half the Melbourne zone 1 cost, and 26% cheaper than Melbourne zone 2 at $3
Sydney tram/bus: $3.66 for 3-8km, still 17% cheaper than Melbourne zone 1, though more expensive than Melbourne zone 2
Sydney train: $3.54 peak/$2.47 off-peak for up to 10km
Sydney train: $3.08 off-peak for trips of 10-20km. (The peak fare is identical to Melbourne, at $4.40)
Even train trips of 20-35km off-peak are cheaper in Sydney, at $3.53
Melbourne's fares (within zones 1 and 2) are generally cheaper for longer trips: over 8km on buses (Sydney trams don't even go that far!) or over 20km on trains in peak, or over 35km off-peak.
And the transfer rules and daily cap mean Melbourne is cheaper for roaming around all day (for instance, tourists) – but this is not what most daily commuters do.
It's those short trips that really sting, thanks to the nearly flat fare structure. You wonder how many people choose the car by default for short inner-city trips because of it, especially when travelling in a group.
Also spare a thought for V/Line passengers. Anomalies in the zone system mean that, for instance, a passenger from Lara to Melbourne pays $4.40, but hopping on the train a few minutes earlier at Geelong will cost a whopping $13.40 in peak, $9.38 off-peak.
How much have fares gone up over time?
Looking at the basic 2-hour zone 1 adult fare, it's gone up quite a bit over time – from $1.60 in 1990 to $4.40 in 2019. If it had followed the rate of inflation, it'd now be about $3.57.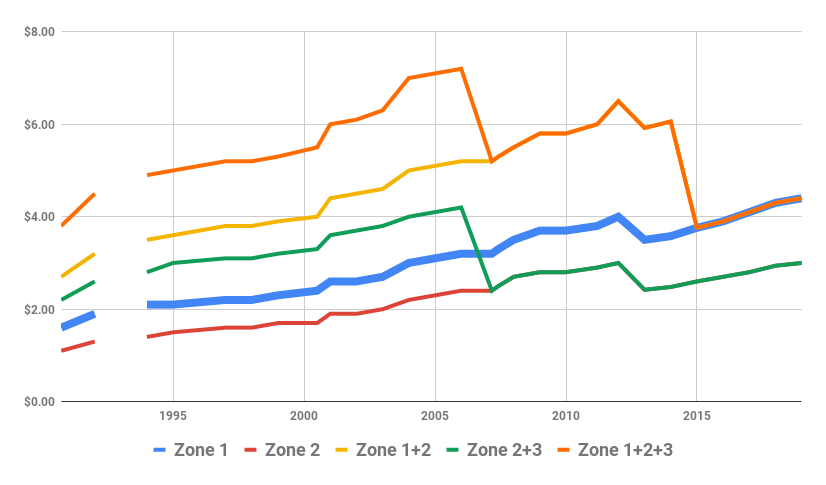 See the data. I am currently missing the prices for 1993. Can anybody help?
People travelling long trips (the old zone 1-2-3) have benefited from the removal of zone 3 in 2007, and the fare capping added in 2015. In 1990 the 2-hour fare was $3.80, from January it'll be $4.40. If that had followed the rate of inflation, it'd be about $8.49.
There was a slight drop for all fares in 2013 (actually in the last days of 2012) when single use Metcards were phased out, forcing everyone onto the bulk price Myki fares.
Solutions are hard
Solutions are hard because so often the politicians reject any policy change where anybody is disadvantaged.
The flat fare has pros and cons. The only logical alternatives are more zones, or point-to-point pricing. The latter is difficult given the older Myki readers still common around the system on trams and buses are so unreliable, and Myki zone detection is so hopeless.
It appears for instance that buses have two GPS systems. One is able to, usually, tell the real-time apps how far away the bus is to a minute's accuracy; the other is often unable to figure out which of two gigantic zones it's in.
Introducing off-peak fares is another option. V/Line gives a 30% discount for off-peak. Perhaps this should be looked at for metropolitan trips too. The same discount would bring that $4.40 fare down to $3.08, matching Sydney on more trips. This would help improve demand at off-peak times, and would shift some trips out of peak.
There is a kind of off-peak pricing: between 6pm and 3am you'll only pay one 2-hour fare – this was inherited from Metcard, and inherited from the 1980s era paper tickets before that! There is also the weekend/public holiday $6.30 cap.
And another upgrade that would be of benefit: re-instating the weekly and monthly caps once planned for Myki would help stop Myki Money users paying too much, and remove the confusion of having to choose between Money and Pass to get the best deal.