Smartbus was devised in the dying days of the Kennett government originally as a mostly hardware-based upgrade: traffic priority, real-time information at stops, distinctive bus stop signs and buses.
Originally it didn't include service upgrades (which sparked derision from the PTUA at the time), but this was changed early on during the Bracks government, with a trial on routes 703 and 888/889 (now 902).
It was a success, with patronage growing strongly. In 2006 the Bracks government announced more Smartbus routes, including four orbital routes (of which two and three-quarters were eventually built) and four Doncaster area "rapid transit" routes under the sub-brand "DART".
Most of these replaced existing routes, but they're now some of the busiest bus services in Melbourne.
This old data (which was the most recent published by PTV, and has now disappeared off their web site) shows that Smartbus (90x and 703) make up 5 of the top 7 routes — in part due to their length, no doubt.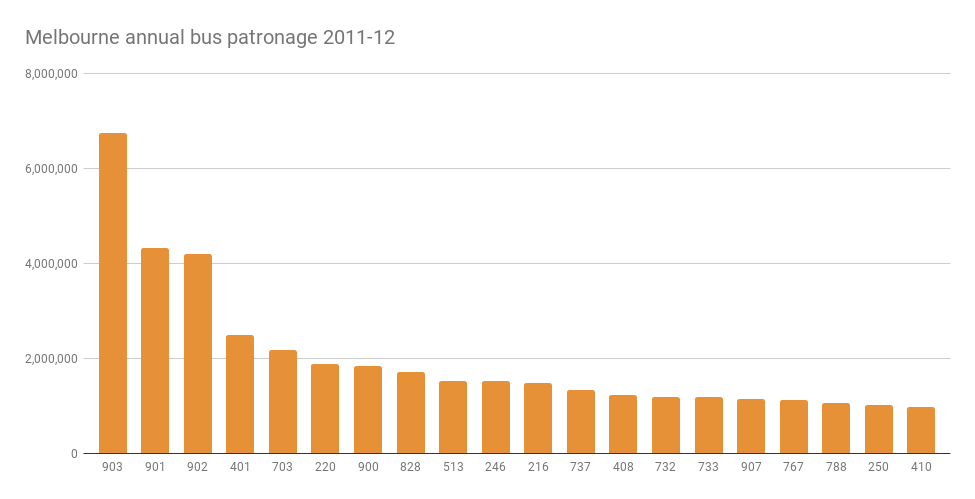 (Monash Uni shuttle route 601 is probably ranked at about 7th, but the figures are so old, it's not included, as it only started in late 2011.)
Silver and orange
Part of the appeal, apart from a better quality of service, was a distinctive silver livery, to set Smartbus routes apart from others.
Transdev, which operates most of the Smartbus routes, seems to be doing their best to kill it off.
Regular orange buses are turning up regularly on Smartbus routes.
Smartbus-liveried buses are turning up regularly on non-Smartbus routes.
Transdev of course have well-publicised problems with their fleet, which has led to a shortage of buses. But you also see these issues on weekends, when there should be plenty of spare vehicles. (The above photo is from a Saturday. That day, at least two Smartbus liveried-buses were observed running on route 223.)
Ventura has also been spotted occasionally running regular orange buses on Smartbus route 900, and they also run route 703, one of the original trial Smartbuses, which has never been upgraded to reach the supposed Smartbus service standard, and always runs orange buses (albeit with internal passenger information displays, which are only seen on Smartbus routes).
Is it time to ditch the special livery?
There might be some benefit to having a distinctive Smartbus livery in terms of attracting new users, but I don't think it's ever been quantified.
There is, self-evidently, a cost to bus operators of having a specific fleet of buses that can only be run on certain routes. This is the same reason they are reluctant to run mini-buses at quiet times – as this video from Florida notes, it would involve having an entire separate fleet for particular runs.
Should all buses be Smartbuses?
Smartbus routes are not actually the most frequent on the network, so the current distinction is somewhat arbitrary.
What if we gave all bus routes the benefit of Smartbus technology?
One benefit of Smartbus is real-time information at stops, but data feeds for this are now available for almost every Melbourne bus route (via the PTV app and others).
Maybe where regular and Smartbus routes share stops, they should be displaying all routes on the Smartbus kerbside signs?
Perhaps they're already trialling this. A couple of weeks ago I spotted this displayed on a Smartbus sign at Caulfield Station – it was alternating between non-Smartbus route 624, and Smartbus route 900. (Yes, refer to printed timetable isn't very useful. In fact, that default message should probably now be "refer to printed timetable or PTV app".)
Another Smartbus amenity not currently seen on other routes is passenger information displays inside the buses, alongside automated announcements for each stop.
During my UK trip last year I found similar displays in every single London bus that I rode. I found it helped a lot when navigating an unfamiliar route.
This is also increasingly standard on Melbourne trams.
The obvious question is: why not here on every bus? This would also assist ensuring those with hearing or vision difficulties are informed about their location.
As for the liveries themselves… arguably it is useful to distinguish between bus routes by more than just the number. But equally there's value in a uniform fleet, to emphasise there's a network.
Perhaps the answer is to make more route number displays standard on all new buses — not just the front, but also the side and rear too. Make them super prominent.
And perhaps some innovative new way of providing individual route markings/colours (within the standard orange design) could be found, such as a coloured stripe or other design along the side that can be displayed clearly, yet easily changed when the bus gets switched to another route.
All options worth exploring.
Of course, putting more automated information at stops and on buses won't solve issues of poor scheduling, infrequent services, spaghetti-like route structure, on-road delays (and a lack of traffic priority), cleanliness, and reliability…
But starting a rollout of Smartbus features onto every bus route — including regional town buses — would be a step forward to providing an easier to use bus network.