On Friday, The Age reported that Infrastructure Australia has put out a report that asks what sort of city we'd like to have in 2046:
The Expanded Low Density scenario – similar to Los Angeles – sprawling, dispersed suburbs, even more car-dominated than today
The Centralised High Density scenario – similar to New York City – concentrating jobs and housing in the inner 15km ring
The Rebalanced Medium Density scenario – similar to London – medium-density over a wider area, and jobs closer to where people live
IA's question is a good one, and put in terms many people can understand.
If the populations of Melbourne and Sydney continue to grow, we will end up being more like the population of LA, NY or London.
What outcome do we want? Because that's the one we should plan for.
As it happens, also on Friday, the Financial Review reported that the International Monetary Fund says Australia has been spending too much on roads, and the pendulum needs to swing to railways, ports and airports.
All this raises many questions, but here's one I'd already been looking into:
Do more populous cities have more motorways?
How many motorways are there in LA, NY and London, and other big cities, compared to Melbourne?
I looked at the total kilometre length of motorways in the three cities – plus a few others where I could easily find data.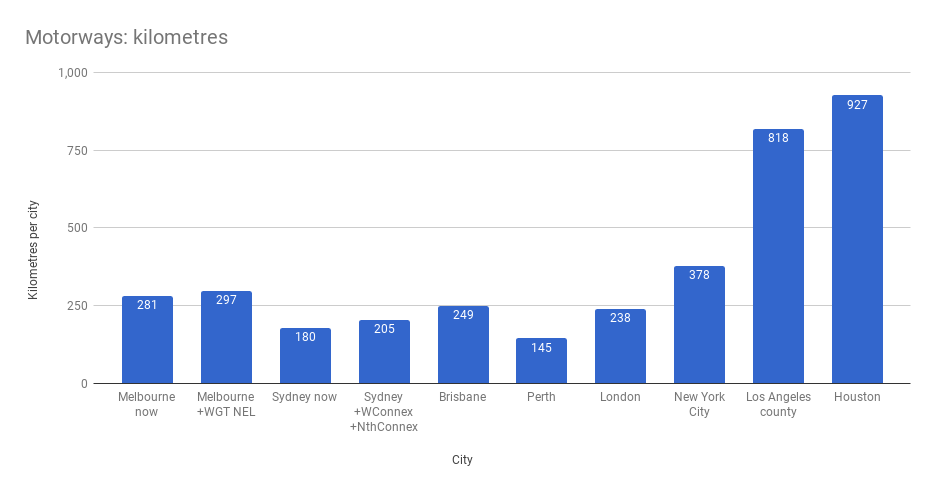 Some caveats:
I went looking for numbers, and in some cases got lists of motorways (freeways and tollways) from Wikipedia and added their lengths together, or found an official source (LA, NY)… a more exhaustive study would probably have better sources than this.
You could argue that motorway lane kilometres are more important than just length, as the number of lanes can radically alter carrying capacity.
You can also argue that other types of roads, such as major arterials, can play a big part in overall road space and capacity in a city, but let's keep it simple and focus on motorways.
…taking that into account, you will note that Melbourne already has more motorways by length than London and Sydney.
In fact we've already got more kilometres of freeways than any other city in Australia, but the WestGate Tunnel and North East Link, which the current government wants to build, will see go even further beyond the others.
Houston is the clear king, at least in this small sample. That's the city where they keep massively expanding their freeways, but their traffic doesn't get any better.
What do the big cities do?
Motorway length is obviously dependent on city size.
Some people argue that as our cities grow in population, they need more motorways.
What happens when we divide by population (for the same area) to find the motorway kilometres per million people?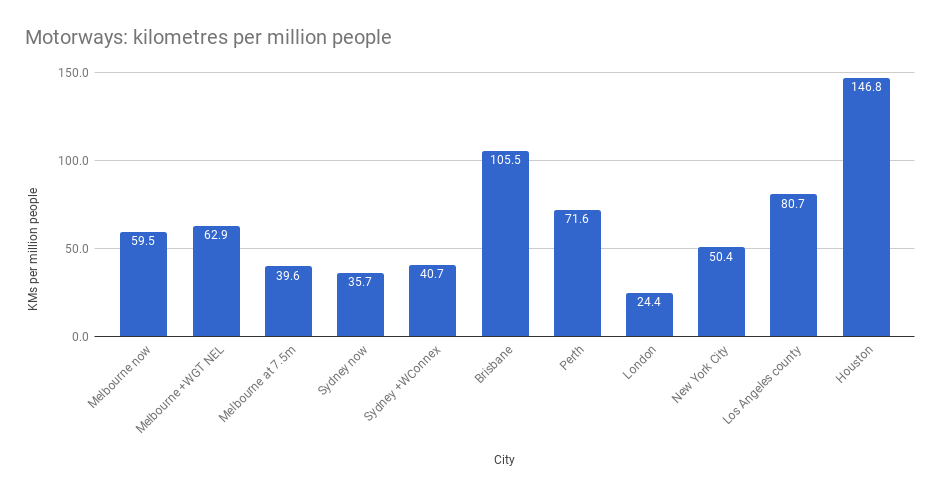 Obviously a more exhaustive study, with more cities, using this type of methodology would be interesting.
Nonetheless… by this measure, what's striking is that we in Melbourne have more motorways per person than London or New York City. If we keep building them, we'll creep closer to Los Angeles.
Back to the IA question: what do we want for our city? LA, NY, or LDN?
I don't think we want to be like LA. Sprawling, dispersed suburbs dominated by cars? LA's bad traffic is notorious. No thanks.
New York or London? I'd personally prefer London. Gentler medium density, and spreading employment centres over a wider area.
The key thing to remember is which transport modes move people efficiently as cities get bigger. As I said recently: Roads get less efficient the more people use them … Public transport gets more efficient.
And we will get the city that we plan for and build for.
On the measure of motorways at least, if we want to be like London or New York, there's a lot to do to achieve that… but building more motorways isn't one of them. Time to look for more efficient ways to move people around.
Update 26/2/2018 9:45pm. Found an error in the Brisbane data. Corrected.
Update 27/2/2018 7:00pm. Sydney data also corrected. Thanks for the feedback.
PS. Tony Morton said it well:
Building roads is the worst way to deal with urban growth, precisely because it locks you into trying to accommodate it with by far the most space-inefficient method of transport. #GetOnBoard

— Tony Morton (@tonybmorton) March 12, 2018