I wanted to reflect on something from our recent visit to Cardiff.
Some of central Cardiff is pedestrianised, which is great. Many other areas have nice wide footpaths.
It would be near-perfect for walking… if at most intersections the traffic lights weren't designed to be so pedestrian hostile.
It's as if the traffic engineers either hate pedestrians, or have done everything they can to theoretically prevent car and pedestrian accidents.
But in the process they've created an environment where people have to wait for so long to cross the street that jaywalking is widespread.
Beg button x 2
What's the only thing worse than waiting for a traffic light to cross the street? Waiting for two traffic lights to cross the street!
In Cardiff, many intersections have traffic islands, and the pedestrian crossings have all been designed to be staggered, with the lights programmed to give a green man at different times.
Rule 28 of the UK Highway Code says:
When the crossings on each side of the central refuge are not in line they are two separate crossings. On reaching the central island, press the button again and wait for a steady green figure.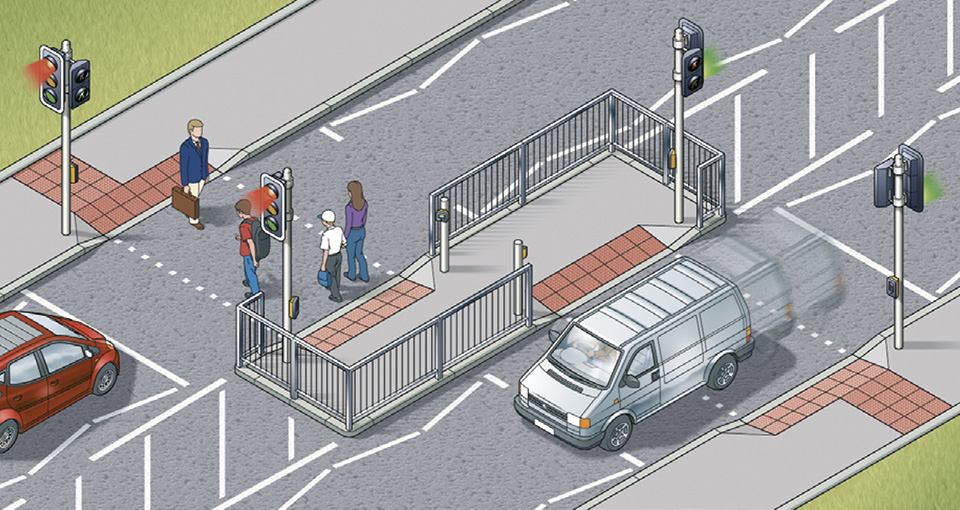 The proliferation of this design in Cardiff means that at most spots as you cross the street, provided you obey the green/red man, you have to wait twice, and the way these are implemented, the wait is often for an extended period of time — even when there's no traffic coming.
I suspect it's used to minimise accidents caused by inattentive drivers:
For instance at a three-way (T) junction, you might have a three part cycle with each road having equal green time.
Then you fit the pedestrian cycles around it: on any one of the three roads, two-thirds of the time, people can cross in front of the stopped cars.
Only when those cars get a green can you cross the rest of that road. So you'll never make it across the entire road in one go.
They've set up similar programming at many four way intersections.
Yes, it theoretically cuts vehicle conflicts with other vehicles and pedestrians, and probably maximises vehicle throughput where there are a lot of turning vehicles.
But should that be the top priority in a dense city centre?

Pic from Google Streetview — On the main road from Cardiff city centre to Cardiff Bay. The pedestrian light nearest the camera is red; the other one is green.
This setup is beyond irritating when you're trying to walk around. Often there will be a long wait for two separate green men despite there being little or no traffic.
It's a very poor experience for pedestrians, and does nothing to encourage walking.
Thankfully such a design is rare in Australia. The only time you're unlikely to get all the way across a divided road is if you're not a fast walker, and you're at a very wide road, perhaps 4+ lanes each way plus a wide median.
Traffic light design
Apart from how they're programmed, some of the traffic lights have their green man display not on the opposite side where it's easily seen, but on a display next to the button.
This is quite low down and can be difficult to view when other people are waiting.
It's also completely counter-intuitive to watch for a light that's off to your side, rather than in the direction you're wanting to go.
Combined with many traffic lights not having audible prompts (near-universal in Australia), this leads to people not even noticing when the traffic light eventually allows them to go.
Not all the crossings in Cardiff had this design. It's not clear to me whether this is the new standard, or one of several standards, depending on context. We saw them elsewhere in Britain, though I don't recall seeing any in London.
(See an example, with an additional indicator further up the pole, outside Cardiff Castle.)
Outcomes?
In this kind of walking environment, it quickly became apparent that many of the locals jaywalk regularly – and I can't say I blame them. It was positively painful walking around and obeying all the traffic lights.
Widespread jaywalking means that the safety benefit (if indeed that was the motivation for these designs) is completely undermined.
I saw similar issues elsewhere in the UK, but to nowhere near the degree they've done this in Cardiff.
I don't know the history of this, and whether there have been objections from the locals – I searched online a bit, didn't find anything.
It's unlikely it would ever happen, but if I ever end up living and working in Cardiff, I think I've found my first advocacy campaign.
Cardiff is a lovely city. But it treats its pedestrians with contempt.