I know I was just writing about Night Network last week, but the news that it's been made permanent came through over the weekend, so here's another post on it.
My sons are of the age when they get out and about after dark. Recently one was out at a party in Brunswick until about 1am on a Saturday night, and it was great that he was able to hop on a train with his friends to easily and safely get home.
Late nights like that are behind me. Every month or so I do catch trains home around 10pm or 11pm, but it's rare that I'm out after midnight.
A short history of Melbourne's after-midnight PT
I remember a time when (with no money for a taxi) I'd be watching the clock to catch the last train home on a Friday night. During the 70s and 80s, the last trains and trams out of the City were around midnight Monday to Saturday, and around 11:15-11:30pm on Sunday nights.
In May 1993, the state government (under Kennett) introduced Nightrider buses, initially running once an hour along 9 routes, starting at 12:30am, and with a premium fare of $5-7.
The route structure was designed to follow the busiest tram routes in the inner suburbs, and the longer rail lines in the outer. Perhaps this was logical when trying to provide a reasonable network from a very limited budget, but it meant routes were unfamiliar to most people, and some inner suburbs had good public transport access during the day, but no all-night services. This is a problem that plagues Melbourne's night buses still.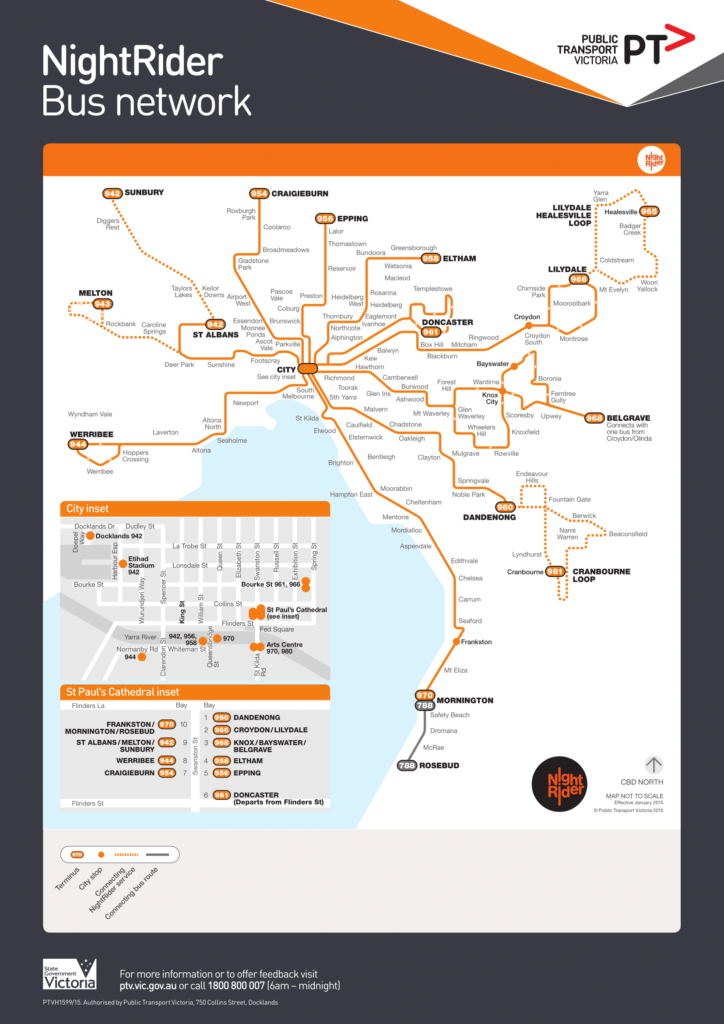 PTV Nightrider map 2015. The routes were largely unchanged since 1992. Click to zoom.
In 1997, a "NightLink" tram (route 99) was trialled, running on Friday and Saturday nights after midnight, every 20 minutes from the City to Richmond along Swan Street, then via Chapel Street and Carlisle Street to St Kilda, then along the light rail back to the city via Collins Street, and up to Brunswick Street in Fitzroy. (Added following Mike's feedback. I'd forgotten this one.)
From 2000, Sunday night trains started aligning with Saturdays, with "Bayside" lines frequencies upgraded from 40 to 30 minutes, and last services pushed back from 11:30 to midnight. (Thanks to the rail system being split across two operators at the time, it took some years for all the lines to be upgraded. For a while there, when Christmas Eve fell on a Sunday, patrons at the Carols By Candlelight at the Music Bowl would miss the last train home on the Hillside/Connex lines if they wanted to see the concert finale.)
In 2003/04, despite warnings, most New Years Eve services ran only until 1:30am, with only Nightrider after that, resulting in large numbers of people unable to board the last trams and trains, and resulting in sustained criticism of the state government. They fixed the problem, and all-night services have run on NYE every year since then.
During the 2006 Commonwealth Games, trains and trams were extended to 12:30am each night. NightRider buses ran 7 nights a week; hourly from Sunday to Thursday, half-hourly on Friday and Saturday nights.
In late 2006, the government extended trains and trams to run until 1am on Friday and Saturday nights, finally recognising that more people are out and about late on weekends than other nights.
In 2007, the Nightrider buses, still oddly starting at 12:30am (overlapping with trains and trams), started accepting standard Met fares. Daily fares were adjusted to expire at 3am (eg start your trip by 3am) instead of the old "end of day" time of 2am.
In 2008, the government rebranded and upgraded Nightrider to half-hourly, with first services around 1:30am. This combined with the standard fares finally got patronage taking off, leading to some routes running as often as every 15 minutes during summer to try and reduce overcrowding.
Having lost power in 2010, Labor went into the 2014 election promising "Homesafe", all-night trains on all suburban routes, six all-night tram services, and 2am coaches to regional cities, which became "Night Network" – implemented from January 2016 pretty much as Labor pledged.
It didn't come as a complete surprise. Internal planning for the possibility of all-night operation on weekends had been happening for some time. It also resulted in changes to maintenance and upgrade works; many have now moved to weeknights, either after last service or from 9pm, which probably has less of an impact on passengers than weekend nights.
(Despite pre-planning, parts of Night Network may have been implemented in a hurry, resulting in inefficiencies such as some trains spending 50% of their time idle at termini. Ironically, it appears the trams and trains, a network essentially designed by Labor in opposition have been more successful for patronage than the Night Bus network, which was designed by PTV. My view is this is largely because Night Bus routes are completely different to day time routes, thus not well understood by most people.)
On Saturday, the government announced that Night Network has been made permanent, which is great news.
After a successful trial, the state govt will spend almost $200 million to keep our public transport running non-stop on weekends. #9News pic.twitter.com/4GBCfyON5H

— Nine News Melbourne (@9NewsMelb) April 22, 2017
After midnight
After the Things Of Stone And Wood concert a few weeks ago, it was of great comfort to know that there was no rush for the last train — no last train!
The concert in Northcote ended about 12:30am, and we hopped on a tram to the city, then walked down Swanston Street to catch the 1am(ish) train from Flinders Street Station. From 2006 and 2015, this was the last train of the evening.
Northcote was busy. The tram was busy. The City was busy. Flinders Street Station was busy, with plenty of passengers and also plenty of staff.
All-night public transport has followed the development of the all-night economy, but has the reverse been true as well, with the all-night economy now growing thanks to better public transport access? It'd be interesting to know.
I also suspect it leads to more use of public transport before midnight. Given it was a Friday, I'd been at work before the concert — I knew I didn't need to go home first and drive to Northcote, because there'd be a way to get home no matter how late it went. (Yes, there's always taxi or Uber, but part of the reasoning for all-night public transport is that taxis in particular aren't coping well with demand.)
More broadly, does it encourage some younger people to defer learning to drive and/or buying a car? Quite possibly. The more trips are possible by public transport, the less compelling the expense of driving becomes.
The morning after the Night Network announcement, Radio National aired this interesting program looking at 24-hour cities. They talk about the complexities and benefits of enabling the night time economy.
One of the points they made was that longer licencing hours (and related services) help improve safety because a mass of people don't all leave venues at once. Senior transport people tell me that in Melbourne, the all-night services have helped in a similar way, reducing the phenomenon of groups of people all waiting around for the first train of the morning. They also tell me there have been no major security incidents since Night Network began.
As I wrote last week, Night Network could be better – the buses run routes completely different to daytime, and it'd be nice if the trains ran more frequently (which would improve their efficiency as well as increasing fare revenue).
But at least now people have the certainty of knowing that it's a permanent feature of Melbourne's public transport service. With the right upgrades and promotion, patronage should continue to climb.