On Tuesday I headed out to the new Caroline Springs station for a look around. It opened at the end of January.
I caught the 17:59 train from Southern Cross. It was heading to Bacchus Marsh, and it was full — at least by V/Line's standards, which means every seat was taken — reflected in their official capacity figures. In fact, a dozen people were standing in my carriage by the time we left Footscray. Since the last time I've ridden an H-set, it appears that V/Line has fitted the seat sides with handles to help cope with standing passengers.
We rolled into Caroline Springs about 5 minutes late, and the first thing you notice is that it's in the middle of nowhere; about 800 metres from the nearest houses. This of course is a complete contrast to most of Melbourne, where suburbs developed around the railway stations, at least up until about the 1930s when the rail network stopped expanding.
I touched-off with my Myki, and followed the crowd. A reasonable number of people were getting off the train here, given it's only a half-hourly service in peak hour and the station's only been open a couple of months.
Evidently Caroline Springs Station's working name was Ravenhall, because it turns out that's what shows up on the Myki transaction record… they still haven't changed it! Local MP Marlene Kairouz says it will be fixed.

The other thing that changed is that the original plan for a single platform was revised in 2016, before the station opened, but after much of the station was built. It was sensibly modified to have two platforms, with a short extension to the duplicated track from Deer Park West to just past the station. Looking at the completed station, you can't really tell it's been modified along the way.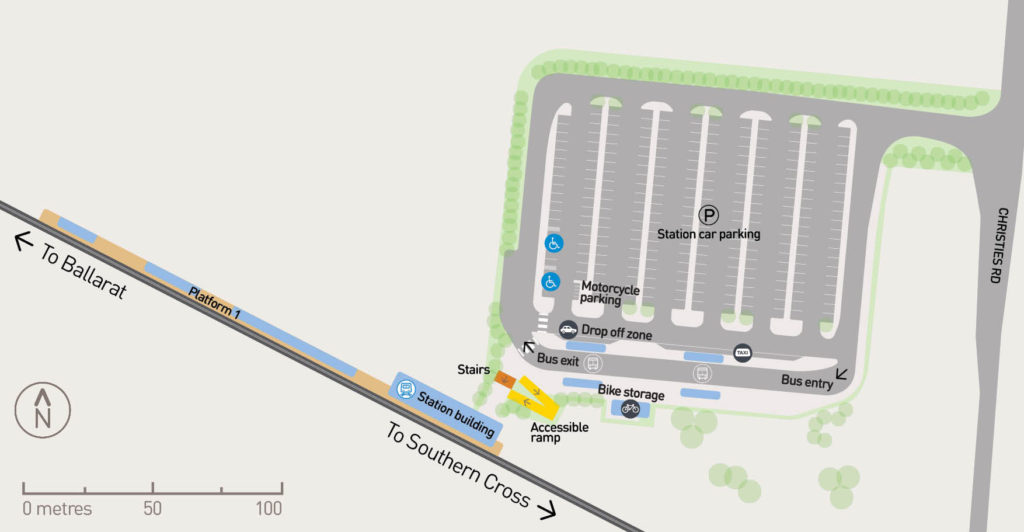 Leaving the station takes you via stairs (ramps also provided) and an underpass to the only exit to the north. There's a car park, a bus interchange, and a bike cage. Several bikes were in the cage, but most people walked to their cars, with a few boarding the waiting bus, which left a couple of minutes later.
There's a bike path that goes into the station precinct, and ends at the bike cage. I'm not sure if the road from the suburb, Christies Road, has bike lanes or if there's any kind of separate bike path or connection to the nearby Deer Park Bypass trail.
Here's an odd thing: in the underpass was a surprising number of millipedes, mostly on the walls, some on the floor. This is not something I've seen before so visible in a station, but around Australia, including in Victoria, millipedes have caused train delays and even been blamed for a train crash in Western Australia. In 2012 they forced V/Line to ensure all trains were at least two carriages. I hope they're aware of this latest occurrence.
As I looked around the car park snapping photos, the PA sprung to life: "For the gentleman taking photos, is there something we can assist you with?"
I snapped a couple more, then walked back into the station and paused by the booking office window. The station assistant came out of the back office where he'd presumably been watching the CCTV like a hawk. "Nah mate, I'm good, thanks."
Touching-on my Myki as I re-entered the paid area, I waited for the train, and looked around the platform, taking a few more photos and trying not to look too suspicious to my vigilant friend.
There's a fully-enclosed waiting room with an information screen and timetable display inside. With little weather cover around the station, that'll no doubt be useful on cold winter mornings.
This next photo shows along the platform there are markers for where the different length trains should stop. You can also see the base of a future staunchion, which seems to have been installed as part of provision for electrification of the line, which is expected next decade. Good forward planning. The sign on the fence refers to the adjoining conservation zone, which probably means there will never be development immediately around the station.
Looking west you can see where the double track ends, with just single track extending beyond towards Melton.
The single track is going to be duplicated as far as Melton as part of a project to upgrade the Ballarat line that was announced last year.
Oddly they list "duplication of 17 kilometres of track between Deer Park West and Melton" — perhaps the already-duplicated section to Caroline Springs was technically part of the same project or something. No matter – it made sense to do it while building the new station.
Single track of course plays havoc with train operations. Any little delay can very quickly snowball, as trains have to wait for each other.
In this case, there should have been another train from the city to Ararat, due at 18:45. That should have entered the single track, before passing the inbound train I was waiting for at Rockbank at 18:50, which in turn would have reached me back at Caroline Spring at 18:55.
But the 18:45 train to Ararat was some 26 minutes late departing the city — and may have delayed (or been further delayed by) the inbound trains following mine. It's a precision juggling act that won't be required to the same extent once the line is duplicated.
18:26 Southern Cross – Ararat is delayed approximately 26 minutes due to the late arrival of another service.

— V/Line Ballarat Line (@vline_ballarat) March 21, 2017
V/Line blamed the long delay on the late arrival of another service… this was a train from Waurn Ponds on the Geelong line, which had suffered extensive delays right through that evening's peak hour. It beats me why they run their operation like this, with delays on different lines cascading onto each other… but Metro's not much better at times.
The Ballarat line upgrade project will bring a much needed boost in terms of track capacity and reliability. It's good that Caroline Springs finally has its station, but further upgrades will help passengers at stations in Melbourne's fast-growing outer suburbs, and right along the line.
Provided they can keep the millipedes under control.
Postscript: An update from Marcus Wong:
@danielbowen I went past today, pest controller was there spraying for millipedes.

— Marcus Wong (@aussiewongm) March 25, 2017