From the popup text of the comic reproduced below:
We're also stuck with blurry, juddery, slow-panning 24fps movies forever because (thanks to 60fps home video) people associate high framerates with camcorders and cheap sitcoms, and thus think good framerates look 'fake'.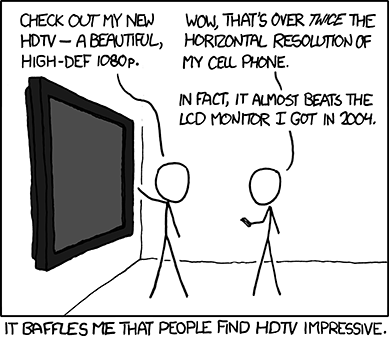 The first DVD I played on my old Loewe TV when I got it (in June 2002, though staggeringly I appear not to have blogged about it) was scene two of O Brother, Where Art Thou — where our three heroes try and jump aboard a freight train.
I dug it out to try the DVD player with the new TV, the other day.
With the ol' Pioneer DV-344 and component cables (actually just repurposed RCA cables), the picture is amazingly clear, and the film incredibly smooth. So much so that, as per the comment above, it does look like it was shot on cheap video — in fact it reminds me a little of old programmes from the 60s shot on video.
I assume that a combination of the component cables, plus the TV refreshing at 100 Hz is doing it.
I'm far more used to material being shot on film looking a teensy bit grainy, but I suspect I'll get used to it.
PS. Even the TV reception looks better than it did in the shop. Not sure what the deal is there… though in real life we view the screen from further away than it is in the shop.