Some people believe public transport should be free. I'm not one of them.
I will admit that twice (so far) this month I've taken advantage of the Free Weekend Zone 2 Buses deal. It's been enjoyable, and fairly relaxing, but only after doing way too much work (more than most normal people would do, I'll wager) checking timetables and researching alternate routes to avoid the long waits between services.
That's the real problem holding people back from using PT more often: poor services.
On these free weekends, are the buses more crowded than usual? No. Are the roads less busy? No. Cost is not the main factor here.
As patronage has risen, so has revenue. Across Melbourne, fares are now pulling about $580 million per year — up about 60% in the last 5 years. This in fact disproves a common urban myth — that the revenue only just covers the cost of the ticketing system. Even the astronomical cost of Myki comes out at about $130 million per year (for the first ten years, which includes startup costs; supposedly around $50 million per year after that).
So making it free would mean forgoing hundreds of millions of dollars per year… all money which could have gone into making the system better, which is the real key to getting more people using it.
Now there's a proposal to make travel within the CBD free. I like that idea even less.
Who would benefit from free CBD travel? The vast bulk of people coming into the CBD do so by PT, thus already have a ticket to travel around the CBD.
The committee used the Government's Melbourne's Integrated Transport Model to analyse the benefits of free transport. Results showed free trips would eliminate more than 1500 short car journeys a day, boost tourism spending around the CBD and cut carbon emissions.
Tourists? Sure, a benefit there, but they're arriving into Melbourne in record numbers — I don't think the prospect of buying a Daily ticket is holding them back.
Country visitors? If they arrived by train, they already have a ticket they can use in the CBD.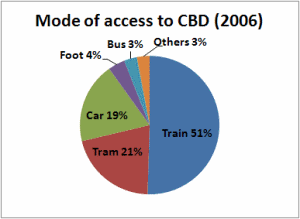 No, the main beneficiaries would be that minority of CBD commuters (19% and dropping), the motorists — the bigwigs and revheads who get in their cars every day, battle it out through the traffic, clogging city streets (and delaying those of us in trams and buses in the process) to park in their company parking spots.
What, and now they want a free tram ride to their luncheon appointment, so they don't have to pay or walk?
Stuff that.
The trams around the CBD are packed enough as it is, especially at lunchtime. We certainly don't need to encourage more motorists into the CBD by giving them a free ride once they get there.