I was tagged by Clay for an animal meme. Though I suspect these answers won't be terribly interesting.
An interesting animal I had…
I don't currently have any pets. In the past it was goldfish and cats, and when I was very young, budgies. The one I had the longest was Sooty the cat, who was around from about the age of 12 until a few years after I left home — we got her as a kitten, to accompany my sister's cat Mischief (who was later renamed to Eric).
I don't know if I'd even contemplate arguing that any of them were "interesting". It's not like we ever kept elephants or anything.
An interesting animal I ate…
In York in '98 I tried black pudding for breakfast, which apart from being the basis of a weapon for Lancastrian revolutionaries in The Goodies, is notable for being made of blood. I haven't had it since, and don't recall what it actually tasted like, other than that it wasn't unpleasant.
Other than that, not being overly adventurous with food, I don't have any good stories like Clay's live calamari tentacles. Though some of my work colleagues have indulged in eating chicken feet on occasions.
An interesting thing I did with or to an animal…
Eh? Oh. Walking Marita's dog Maisie? Putting the cat into a pillowcase to get a pill down her throat? I did help herd sheep once.
An interesting animal at a museum…
Does everybody cite dinosaurs for this? The Natural History Museum in London has (or had, in 1999 when I was last there) a memorable animatronic dinosaur exhibit.
I really liked the picture I took of mountain goats at Sydney Zoo.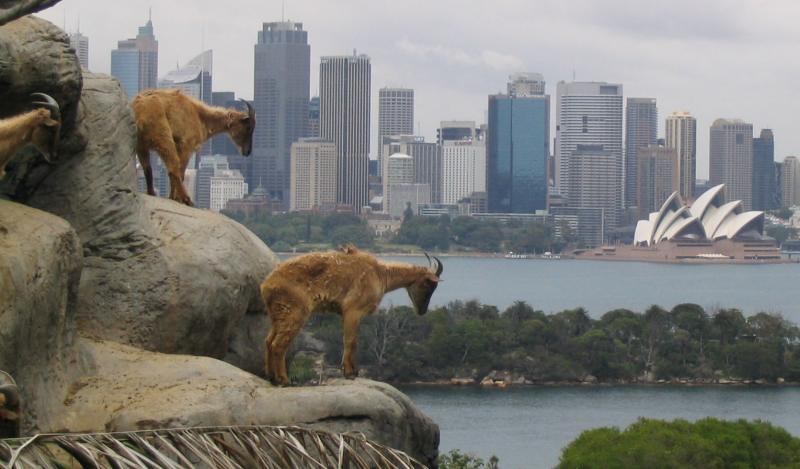 An interesting animal in its natural habitat…
How about roos in Seymour? Rabbits in Footscray Park? (Does that count as natural habitat?) Squirrels at the Grand Canyon? Cows wandering around Plockton, Scotland? Possums in my roof and bats in my street?
Sorry, but me and animals haven't really mixed.
Tags? Oh, anybody who wants to jump in, really. I'm sure most will have more interesting answers than me.