Sunday started out so well.
Long sleep in.
Stroll down to the shops to buy ingredients for muffins, and get a newspaper.
Lunch with globetrotting Doug in Kensington, where he was in residence for the morning. (Marita and I rolled in as some of his other friends rolled out). Much laughter with the discovery that Doug had watched the Hungarian National Day fireworks in Budapest in 2004, while 200 metres away Marita lay unconscious from jetlag in the hotel adjacent.
Homemade muffins for afternoon tea. Yum.
By 5pm my tummy was rumbling.
By 7pm, a slight ache. But I was hungry, and ate a nice dinner.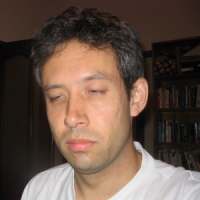 By 10pm I'd gone home. A stronger ache, and I was kicking myself for not having bought some Mylanta at the supermarket. Was in no mood to go down again, so went to bed.
Failed to sleep. Tossing, turning.
Midnight came and went, as did 1am. About that time the nausea came to the fore and I made use of the bucket.
Regular readers might know, as my neighbours now do, that when I'm chucking-up, it's never a quiet experience. It's never all at once, either, but a series of protracted episodes.
The fourth and final episode was around 2:30am, and whatever it was my body had been trying to purge from the system tasted really foul. I suppose if I had had the foresight to save it, it could have been subjected to chemical analysis, but I was just relieved that I finally felt better, the stomach ache had gone, and I could finally get to bed for some rest.
I feel better today. Glad I've got one more week of holiday.