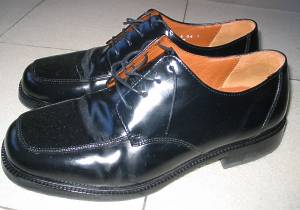 I got some new shoes last week. I'm terrible at buying shoes, I hate buying shoes, I can't choose shoes.
Add to this some level of anxiety about my smelly, sweaty feet. I knew I needed shoes, and I knew I'd be going shoe shopping after work, so what did I do? I took an extra pair of socks with me. Changed into them as I left work. After all, it's not very civilised to try on new shoes with smelly feet, is it?
I had noted a 25% Off Men's Shoes Sale at Myer. So in I went and after much wandering around the store, found some I liked, got the lady to find the right size (got some. Work shoes. Black. Extremely shiny, at least at the moment. Well, except for one bit on the rim of the sole, which seems to have lost its sheen already. And they show the dust really well.
As invariably seems to be the case with nice looking shoes, I need to wear them in. I've survived day 2. Unlike on day 1, I'm at the stage now where I think I could run in them if I had to. I just choose not to.
Oh, and my runners need replacing as well…