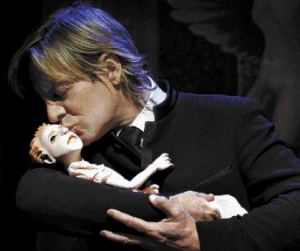 One thing's for sure: you don't book for a Ronnie Burkett piece unless your timekeeping and your bladder are up to the task. You're either in the door for kick-off, or you're locked out. (Due to circumstances a little too complicated to describe, I made it by only a few minutes, and that was only after a run across Princes Bridge.) Feel the urge to leave during the two and a bit hour performance (with no interval) and they won't let you back in.
And fair enough too. This isn't the Knox multiplex, and you're not seeing the latest Hollywood fluff piece. This is Canada's — and one of the world's — finest puppeteer at work. And if you're thinking Being John Malkovich, don't.
Another piece full of music, humour, and sometimes brutal drama, Provenance (like Tinka's New Dress before it) covers a number of intertwining themes. Burkett received burns last week due to an off-stage accident, but showed no sign of ongoing suffering. It was deep without being impenetrable. At times you could almost sense the audience gazing down on him, tense, waiting to see what would happen next. Great stuff.