In order to tell you the weekend's real estate story, it is necessary to talk about money, and large amounts of it.
I earn money. By some people's standards, it's a big stack, way more than one might think I deserve for sitting at a keyboard all day, but that's the way it is, and it's not an unusual amount for people with about decade's experience in the field I'm in.
I absolve some of my guilt about earning so much by giving a small bunch to charity every month, by direct debit so I don't have the chance to forget about it or easily weasel out of it. A bunch more gets spent on living (occasionally a tad ostenatiously). The biggest bunch goes to the tax man, almost half my income. I don't have a problem with this — while I do take issue with some of the ways the government spends my money, I'm relatively happy with the concept of our society taxing people like me to support those who need it, hopefully giving at least some of them the boost they need to get to a stage where they don't need it.
A final bunch gets put into my savings. Little by little, over many years, I've amassed an amount of money which has finally reached the point where it's just about viable as a deposit on a house of the type I want to buy, in the suburb I want to live. Just about.
Enough of that introductory bit.
So I was looking at a house. Nice area. Seemed to meet my requirements of being close to shops and station and a reasonable driving or bus-ride distance to the school. Really good spot, actually. On a main road, but not one marked black in the Melway, so not the busiest of main roads. Quoted price? $400K plus. Which in agent-speak usually means add 10%… it'll go for around $440K. My limit at present is $450K. It's a stretch, my absolute limit, and I'd be scarily in debt for much of the rest of my life, but I could do it if I had to.
It needed work. A bunch of work. The kitchen was "original," meaning it was crap. Replacement job. The bathroom was also original, though not too bad. Tiny shower, certainly, but otherwise workable. The toilet was not quite indoors and not quite outdoors — accessible from the house via the porch. Not ideal for those cold winter nights, but the porch could be modified to be enclosed. Wiring needed re-doing. Floorboards needed sealing or covering. Otherwise okay, quite nice.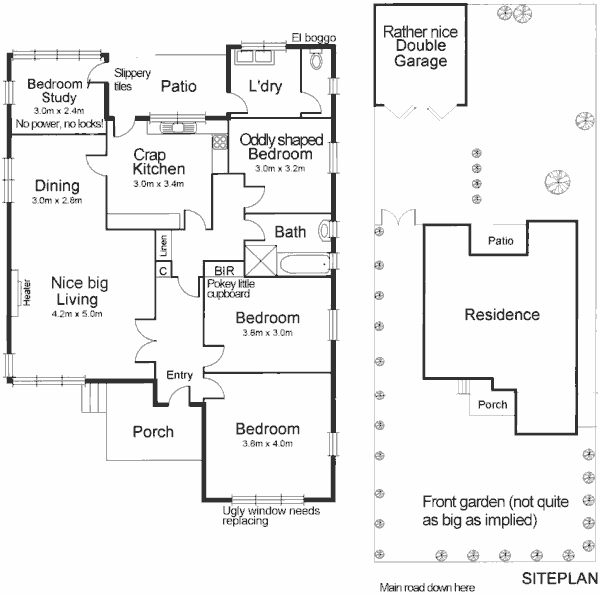 So probably at least $10-15K up-front to make the place liveable, and a bunch more later to make it perfect, or as close to perfect as I'd be keen to get it. I decided therefore that it was worth (to me) $430K. $435K tops. Any more than that and I'd be in debt, out of cash, living in a hovel.
I heard from the agent a couple of weeks ago that someone had put in an offer of $410K, which had been rejected. I thought about putting in an offer of $425K last week, but the agent discouraged me, saying that so close to auction day, it would have to be a high offer to warrant the vendor taking it off the market, and that the best course of action was to just turn up and bid. For a moment my good sense went out the window, and for some reason I actually believed she had my interests at heart when she said this.
Didn't sleep particularly well on Friday night. I'd never made a bid at an auction before, and it was getting a little stressful. Walked with Marita down to the house on Saturday in time to have a last little look before auction time. Realised when we got down there that I'd forgotten my cheque book. Hmm. Might be a tad tricky to hand over a deposit then. Oh well, bridges, crossing, all that stuff.
After some little kids played around with the auctioneer's bell, bringing the crowds to attention a tad too early, eventually the auction got underway. Usual preamble, then the bidding opened. Auctioneer went in surprisingly early with a vendor bid of $400K. Scuppered my plan to start bidding at 415 (to encourage a quick move to jumps by 5).
I put up my hand and attempted to say in a loud steady voice "410". Ba-bump, ba-bump, ba-bump, I could feel my heart pounding through my shirt.
Pause, pause, the only noise from the auctioneer shouting about 410. Someone else piped up: "420".
Me: "425". Auctioneer paused, he wanted to go up by tens. Looked for another bid, didn't find one. Okay, 425 it is.
Someone else: "430". At some point someone asked if it was on the market. Yes, the auctioneer confirmed, it's on the market, we're selling.
It climbed from there. I was out of the game. It wasn't worth that much. Not to me, anyway. It kept going, up to 440, then up by ones. Three parties battled it out, the auctioneer turning back to me and other early bidders when it got quiet. I kept shaking my head. 450. No way. 460. It eventually settled on 463. The usual last-minute pleas for bids.
"Sold!" Yikes. 463. Well good luck mate, better you than me.
It was time for a little post-mortem at a cafe down the road. Marita bought me lunch, and I was settling down to my iced chocolate when the agent popped her head around the door. She exuded disbelief, or a fair impression of it: "Hello! Can you believe the price it went for?"
No we couldn't.
"And do you know what the reserve price was?"
Nup.
"415!"
I think I may have choked on my iced chocolate, but I made agreeable noises as she told us that the winning party really really REALLY wanted the house, said she'd keep in touch, then pranced off down the street.
Bloody hell. 415 reserve. Which means if I had put in an offer of 425 last week, there's a good chance they would have accepted.
Oh well. Did I really want a house needing a bunch of work done on it? No. I barely have time to juggle the existing things in my life, renovation is not something I'm particularly keen to take on as well. And moving is not urgent, I'm in no tearing hurry. I'd like to be out of my current place before winter returns next year, but it's not absolutely critical that it happen. I'm a tad suspicious that my lease hasn't been renewed for a second year, and so the owners may be conspiring to renovate or kersplat the house in favour of units or something, but I'm not going to get into a panic about it unless it happens.
And at least I got my first couple of bids in on a house. It'll be easier next time. There'll be other houses.
And I've learnt two important lessons, which I will pass on to any prospective homebuyers out there for free:
Real estate agents' prime goal is to maximise profit — that's why they all drive expensive cars. They do this by getting the maximum possible price on properties, and by charging fees for things like auctions. So they'll talk down interest to the buyers (you're in with a chance, turn up and bid!) and up to the vendors (don't worry about offers, just wait until auction day!)
Just put in the damn offer you're considering, no matter how silly the agent makes it sound. The worst that can happen is it gets rejected. Even if the agent's not keen, they're obliged to pass it on, though of course they may also be saying to the vendor "Look, this guy offered 425, but I think there's going to be a lot of interest on auction day."
Oh, and don't stress. Even when you have to bid for the first time.