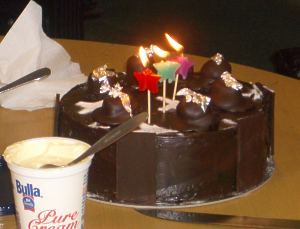 Was having a chat with my sister earlier in the week about birthday presents. She said she was sending quality, not quantity. And you know, this is a philosophy I agree with. I'm at the point where I have a well-paid job and if there's something I want, I can just go and buy it (well, up to a point). Obviously I'm lucky in this regard, and it may not always be like this once I get a mortgage, but that's how it is right now.
Price is always a factor in buying presents, of course. But perhaps the best gift is something the recipient will not only like, but also that they either haven't thought of, or is not easily obtainable by them.
My sister certainly kicked goals in gift-buying department: a book about the London Underground (which at first glance appears to be in a similar spirit to the excellent Seven Wonders of the Industrial World) and a Tintin 75th anniversary t-shirt. Thoroughly excellent.
Apart from that, my work colleagues presented a chocolate cake and snacks and sung Happy Birthday to me (tradition in our office). Ex-wife gave me a gigantic Haigh's chocolate frog (which mostly retained its shape despite being in my car for a full day). And my mum and Peter treated me dinner, and gave me the new super-dooper remastered The Kids Are Alright double DVD set (it looks brilliant, the restoration brings new life to the movie and the music) and Bill Bryson's Short History of Nearly Everything and a big Toblerone.
All in all, not a bad haul. Quality, not quantity.
Except the chocolate. I've got scads of that.