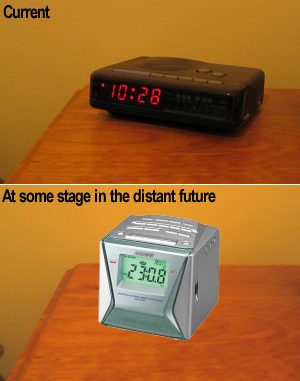 I've been pondering what happened to the alarm clock I ordered through the credit cards award scheme. Damn, given the number of dollars I pumped through the card, they should be delivering it by courier, gift-wrapped within a day of ordering, calling me Sir when they do so and handing over a bonus gold bar. But no, it takes a tad longer than that, and I'm not betting on any gold being involved.
It was ordered on the 29th of June. After a week or two I rang up to ask what was taking so long, and the lady said it takes 28 days. Well, now it's the 4th of August, which is more than 28 days, right?
I looked again at the web site FAQ:
Please allow a 28 working day delivery period for awards you have redeemed.
28 working days. Sigh. Today, by my calculations, was the 26th working day. Perhaps a little longer to wait then. Obviously they hand craft these things and then let them mature for a couple of weeks before shipping. I'll hassle them again on Friday, unless by some miracle it shows up before then.