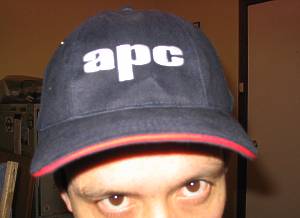 Isn't this cap hideous? It came free with a geek magazine subscription yesterday. I predict a short life in this house, followed by a swift departure by way of the nearest charity bin.
Geek stuff follows: Years ago a mob called RSACi (Recreational Software Advisory Council… I forget what the "i" was for, but they've changed names to ICRA now anyway) got together with Microsoft to design and implement special HTML metatags with which a publisher could flag if web pages had sex, violence, nudity or naughty language in them.
Internet Explorer could be set up so your kids couldn't look at pages with this content above a particular level. So if I didn't want the kids looking at a page with "moderate expletives (Expletives; non-sexual anatomical references)", "killing (Humans or creatures injured or killed. Rewards injuring non-threatening creatures)", "partial nudity" and "clothed sexual touching" (or worse), it took but a few clicks and a password to do it.
All very well in theory, but there were three problems: the first is it relied on publishers to put in these tags. Though toxiccustard.com isn't exactly replete with objectionable content, it certainly has its share of swearing, so I put in a bunch of these tags to frighten the kiddies off. But your average pr0n site? They didn't bother. Neither did anybody else. Only a handful of major sites took the time to tag their pages. So Microsoft's web site has tags proclaiming that there's nothing rude within, while sites featuring wobbly fleshy activities of all kinds have no such warnings.
The second problem is that few people know the options exist in web browsers, and even fewer have bothered to set it up. Recently I realised that my kids had been looking at my diary pages from school. I have long tagged my diary with language level 4 ("Explicit or crude language — Extreme hate speech or crude language. Explicit sexual references.") because I occasionally dip into the lower depths of the English language (4 letter word department). So it's obvious the school computers haven't been set up to filter stuff out. And while one could hope that other schools have been more careful to do this, I'm not betting on it… and if almost no web sites have the labels, why would they bother?
And finally, although IE and Netscape (dominant at the time) implemented this feature, since Netscape has vanished, these days it's only in IE. Firefox and other browsers are gaining market share (I'm switching — are you?), and they don't have these options.
Then I discovered that at least one acquaintance can't read my diary from work because of a web filter installed there. It's not up to me to decide if he should or shouldn't read my diary at work, and I don't know how they've filtered me out, but it wouldn't surprise me if their corporate proxy blocks out anything with too high a language level.
That's just silly. Grown adults can't read my page, but kiddies can. So the tags are coming off. (Along with all those old useless LinkExchange tags, but that's another story.)
And as for kids' web browsing habits, both at school and at home, nothing beats a little adult supervision.