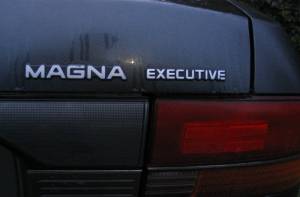 Isaac asked me this the other week, and I had to think about it for a moment: How many cars have you driven?
I probably drove more cars while learning to drive than subsequently:
My driving instructor's white Corolla – André from the RACV Driving School must have nerves of steel, and his car a clutch of Kryptonite. Few cars on the road would get stalled more than his. I remember the first day, I got the steering okay, but dealing with the three pedals was murder.
My sister's red Lancer – she was driving a manual car at the time, so we drove to the Caulfield station carpark and drove up and down and up and down and stall –whoops– and up and down… Strictly speaking she shouldn't have let me drive it, since it was a work vehicle, but she reckoned it would have been okay to just swap seats and blame her if we'd crashed into anything. Fortunately we didn't, though she didn't let me drive it to and from the carpark, only within it.
My sister's boyfriend's red Turbo Laser – We went on a long long drive down Dandenong Road to some godforsaken spot in Mulgrave, then back along the freeway. Got almost all the way back when we discovered the L plate had fallen off the back window. Oops.
A friend's ancient boxy Magna – one of the rugly ones with those horrible louvre things on the back. Euch. It was an auto, and the bloke wot owned it (knew him for a short time back in 199x, but have forgotten his name now) let me drive it to Chadstone. In the rain. Almost had a prang on Dandenong Road when some twat two lanes over decided to move right without indicating, while I moved left with my indicator on.
My sister's Camry – auto. I'd driven it once with her and the L plates ("it doesn't seem to accelerate very fast" "That's because the handbrake is still a bit on"), then she left it in my car space when she went on holiday. Well, I thought it was my car space, but it wasn't, and I was subsequently asked to move it into a different space. The girl from flat 3 must have wondered why I looked so terrified, just me in the driver's seat, worrying that I was an unqualified driver and might crash a car I didn't even own, trying to manoevre in the not very expansive carpark.
A bit after that I got my drivers licence.
A Magna for sale – went car shopping with a work buddy and test drove a Magna. I'd decided on a post-93 Magna because at the time they had the highest safety rating of any Australian-made car. Wondered why it seemed a little sluggish taking off, realised later I'd started it in 3rd gear.
My very own Magna – bought from some guy in Ferntree Gully, we drove it around that area one evening in 1998. Decided it would do, bought it, have driven it ever since. Newly on my P-plates, it took a lot of practice to master it, including a couple of lunchtime sessions in hilly streets close to work, practicing hill starts. My car turned 10 last year, but it still runs all right (bloody should do, the engine got replaced not too long ago) so cars not really being my thing, I'm in no hurry to upgrade.
A girlfriend's white Laser – it felt all wrong at first, the pedals seemed too loose, and I stalled it a time or two, but got used to it eventually. Though I never got used to the ugly louvres on the back windscreen, and the lack of aircon.
A hired Nissan X-Trail – on the camping trip to Cann River early last year. The 4WD mode was certainly very welcome on the off-road bit down to the camp site.
Hmm. I think that's all. Nine, by my count. More than I thought, actually.