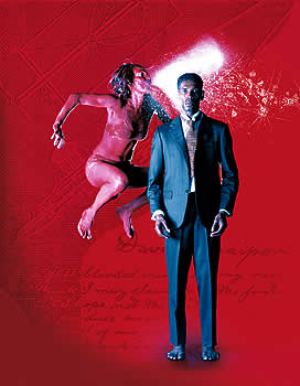 The experiment… well I stood and sat around at Flinders Street for about an hour all up, reading and re-reading the MX, and kept looking out for smokers. Not many about as it happens.
Met up with the photographer at 6pm, and stood and sat around a bit more, posing for the camera. Flash, flash, flash. That's it Daniel, lean against the railing. Relax. Commuters rushing by. Flash, flash, flash. They must have wondered what the hell was going on. Flash, flash, flash. Okay Daniel, sit there. Flash, flash, flash. Great, we're done. See ya later…oh wait a minute, the girl behind you just lit up. Sit down again. I could see smoke floating over me. Flash, flash, flash. Great!
Then I took my Tobacalert kit to the PTUA office in Ross House, to use the toilet there to do the deed. Not like I was going to hang about a railway station toilet at night getting a urine sample, let alone wait 15 minutes to see the result.
As it is, the result of the hour of standing about is probably more evident in the scent of my coat than the test, but it was an interesting (and entertaining to relate to Marita and Justine at dinner) exercise nonetheless.
Postscript 20/6/2004: Wasn't in this week's Sunday Herald-Sun… probably next week's.
Bangarra Dance Company: Clan (Unaipon and Reflections). Even the slightly cranky lady at the cloak room counter couldn't detract from what was a fantastic performance. Such grace, such prowess. Admittedly it's been some years since I've been to a contemporary dance performance, and I wouldn't pretend to be able to work out what the performance was about, exactly, without reading the notes. But great stuff.
The first part, Unaipon, was very good… spectacular in parts, moving and confronting in others. The string section (har har) was really good, and the bit with the girl in rags (?) in the howling wind as people rushed by ignoring her was some terrific and thought-provoking imagery.
After the interval was Reflections, which if someone more crass had been in charge (like me perhaps) might have been called Bangarra's Greatest Hits. The sequence of the stillbirth almost had me gasping with its starkness, the pain and grief conveyed. And the finale as the music faded to the sounds of a brewing storm was brilliant. I'd swear they fiddled the aircon at that point — it was chilling. Definitely a thumbs up.

As if it had been an omen, outside after the performance it was pouring down with rain. Managed to get to the station, to my car at Caulfield Station (left there to avoid the after-eight-wait) and home via the supermarket (What's this? "Cadbury Dream with cookies"?!?) without getting too soaked.