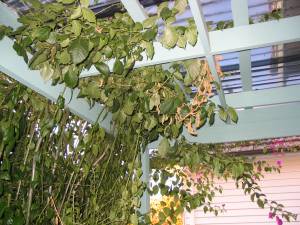 You remember in Day of the Triffids, particularly in the excellent TV version, how the plants would eerily click before attacking. It's a bit like that at my house, at night when the wind blows. The enormous bush next to the front veranda, the one that defeated Cable And Wireless Optus Corporation, moves around in the wind, and many of the longer reaching tentacles (okay, maybe they're just vines) that are intertwined with the veranda cause that to move slightly, resulting in an eerie creaking noise.
Given Tuesday is the day I skive off work early, this afternoon I had a go at trimming the bush back a bit with the shears. The green colour, soft but painfully pointy spikes, and stickiness of the vines all add to the alien feeling. I tried to get at the bits getting into the veranda, but most of them were too high up, and many have stopped being green and are growing into fully fledged sticks of wood, too heavy duty for the shears.
Maybe I need to get one of those anti-Triffid guns.
I'll look on eBay.