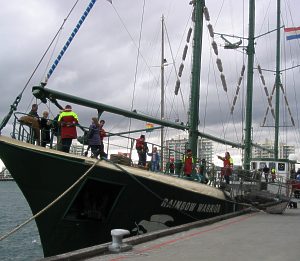 Bloody: Gave blood on Thursday night. Rocketted through the 470mls of O Positive at about a ml per second. Minimal waiting time meant little progress on novel (which is excellent).
Movie: Gettin' Square. Gawd that David Wenham can act. A very enjoyable crime romp, with a terrific cast and a fun soundtrack. And I never thought I'd say this, but both Ugly Dave Gray and Aussie Joe Bugner were perfectly cast.
Buffy: I'm not sure what rock I've been hiding under, but until Saturday I had never ever watched an entire episode of Buffy. Somehow it passed me by until now. I think I might have flicked past it once before it got popular, and found myself in the middle of a nonsensical fight scene and summarily dismissed it. I stand corrected: it was most enjoyable.
Drivey: Thought I could cunningly take a shortcut along Hopkins Street then Whitehall Street to Footscray Road. Admittedly most of the time this isn't a shortcut, but on Sunday mornings it's probably marginally quicker than going another way. Not this time. Two words: Road works. (Or is that one word?) "But… but… I want to turn right there", I thought, as I slowly drove by, looking at numerous blokes in hard hats, big bulldozers rolling around, and a rather large "ROAD CLOSED" sign. Right turn? Nup. Five kilometre detour through the city where I faced yet more road works, thereby bumping my normally smooth and zippy Sunday morning drive out by half? Yup. (Admittedly it might not have been that bad if I'd just managed to stop somewhere and check the Melway to find an alternative route…)
Greenie: The Rainbow Warrior was in dock, so on Sunday afternoon I took the kids along to Station Pier on the tram to take a look. Unfortunately a very long patience-testing wait to get on-board, so we satisfied ourselves with looking around the outside (smaller than I imagined). No sign of French frogmen.
Footy: Tipped 6 out of 8. Not bad, especially since the two I didn't tip only won by a point each.