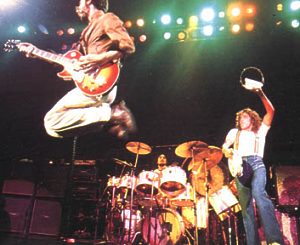 Back in my childhood years, there was only one band I really loved: The Beatles. Somehow I found them fascinating through the 70s and 80s, to the point where my mother got sick of hearing my almost-worn-out Sgt Pepper cassette.
Then in my late teens, a friend brought over a music video to try and grab some stills off: The Who – Who's Better, Who's Best. I soon got into them myself in a big way, and managed to acquire an enormous number of Who CDs, which remain in my CD collection to this day.
Better still this new-found variety opened my eyes to a whole new world of music (one that had been there all along). Slowly my musical tastes widened to include all sorts of stuff, thankfully not just 1960s has-beens.
In fact I'm delighted to say that my tastes now include many bands and artists who have not disbanded, died or joined the nostalgia music circuit. Of course the Beatles and the Who and connected artists are still there in my collection, but they no longer dominate.
The Who had fallen into the back of my mind, but the horrendous events of September 11th 2001 brought them back, by way of the Concert For NYC, which I found late one night on Channel 9. Goodness. They still rocked. They could still pump out great tunes. It was fantastic. I got hold of their Albert Hall DVD and watched that, too. Fantastic. Just goes to show, the old blokes can still rock.
And now I've just heard that what's left of The Who (only Roger and Pete are still in the land of the living, alas) are playing Melbourne in August. Fifteen years ago I'd have given anything to see them play live. Now my interest in them has diminished somewhat. The CDs don't get played very often. The t-shirt I had long ago got worn out and was not replaced. Even my video of Quadrophenia rarely graces the VCR. But given this is their only tour to Australia since 1968 (and that one was prematurely halted), this could be my only chance ever to see them play.
(PS: Apparently they'll be supported by You Am I, who I'd also like to see live)