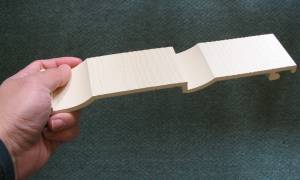 Junk mail with a difference arrived in the letterbox last week. A piece of weatherboard cladding, about 30 x 5 cm, merely a sampler of what the manufacturer promises is a new generation in cladding. It'll solve world hunger, it will bring peace, it's a permanent solution to maintenance, it won't chip, split rot or warp. Really.
Arguably the weatherboard on my house could do with recladding, but equally arguably (if not more) it's not my problem because the house is rented. I assume they put one in the letterbox of every weatherboard house in the area. I wonder if anybody short of cash but keen to reclad has been snooping around trying to gather up enough sample pieces to stick together and cover a wall. Wouldn't look the best, mind you…
So what to do with my sample piece? Maybe I should keep it. Apart from being a conversation piece, it could have a myriad of other uses. Back scratcher. Defence against burglars. Useful for poking under the couch to dislodge errant Lego pieces. Door stop. Paper weight. Fly swatter. Plate scraper. The possibilities are endless.
4:52pm. In the spirit of "I don't need this junk hanging about the house", I've just chucked it in the bin.