Curses! About a month ago our PC at home had the monitor go in for repair. They replaced it with a nicer one, so I was really hoping they'd somehow forget about us and we'd get to keep it, instead of getting our old ratty one back again. Alas, it was not meant to be – the guy brought our old one back. Drat. Maybe it's worth replacing it? Maybe I really should go on that consumer electronics shopping spree and buy a new monitor, new hard drive, amplifier…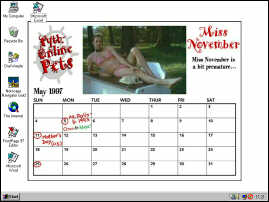 Anyway when the guy dropped it off, we unplugged the loaner monitor and plugged in our one and booted the computer back up. Everything worked okay, including the current desktop wallpaper – Pythonline's May Pet Of The Month – John Cleese in a bikini.
So now I'm wondering… did the computer repair guy notice this? And if so, did he get the joke? He seemed awfully keen to get to his next appointment… Did he run down to the car and jump on the phone to the office "you would not BELIEVE what that guy's got on his computer!"