Hope you all had a good Christmas, or whatever other celebration (if any) you happened to celebrate last week. Oh let's face it, to avoid any confusion, no matter what your race, colour or creed, I hope you had a good week last week. That is, presuming that you recognised the last seven days as a week. I think I'll start again.
Hope you all had a good Christmas. We decided to romp down to Warrnambool (south-west Victoria, get your atlases out) for some relaxation, some lazing on the beach, some staying somewhere where we pay someone else to tidy up, and some getting away from things. And yes, okay, I admit it, some escaping from the family for Christmas.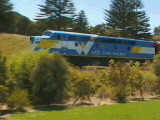 We caught the train down on Monday morning. After we'd piled the luggage precariously on the racks in our compartment the train set out from Spencer Street and soon we where whizzing through the western suburbs, enjoying all the wonderful scenery they have over that side of town, like oil refineries and … umm… more oil refineries. But soon this gave way to countryside.
Thankfully all the grumpiest people in the compartment got out at Geelong. But maybe they were grumpy because the on-train catering only started after Geelong. By this time Isaac (aka SuperToddler, aka DestructoBoy) was roaming the corridors on the train with dad (that's me) in tow looking for people to harass, and getting in the way of the conductor, who was continually roaming the corridor, one hand on his walkie-talkie, looking like he was doing something terribly important.
Isaac did make the acquaintance of a young woman who had got on the train at Geelong. She looked up from her Cosmopolitan every so often to give him a big grin. At one point he unceremoniously grabbed her breast, and I think her grins diminished a little after that.
On another walkabout the carriage, Isaac found some other kids a few compartments down, and spent most of the rest of the journey getting friendly with them. I think this relieved their mother, who like L and I was also faced with the problem of what to do with bored kids during a three hour train ride when they have no interest whatsoever in the passing countryside – no matter how picturesque..
It was almost lunchtime by the time we hit Warrnambool. A search of the city streets trying to find the hotel ensued, with a short stop every block to check the map and make sure we weren't going in completely the wrong direction. Eventually we found the it: the MidCity (more or less in the middle of the city, strangely enough), and very nice it was too.
At least, it had got the full star rating in the RACV guide, so we thought it would be okay. As it turned out, the maid wasn't very good at working out how many towels and spoons three people should have (a random number each day), and a few days later when we checked out, the manager seemed to have an inordinate amount of trouble printing our bill. But it was clean, comfortable, the breakfasts and room service dinner were delicious and courteous, so you can't really complain.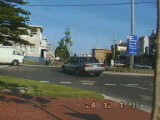 Warrnambool is a pretty nice town. They appear to have rejected the whole concept of traffic lights except on the Princes Highway, and have gone the route of roundabout-mania instead. This took a bit of getting used to; I'm used to walking up to an intersection, pressing the button and waiting however many seconds some VicRoads person has decided I should wait before the little green man (a symbol of imminent alien invasion?) appears and I can cross. As a rule I don't skip lights anymore. I figure that (a) I should set a good example for Isaac, and (b) if I'm in a hurry, I'll run when I'm on the footpath, instead of dodging cars on the road, because it's probably significantly safer. Unfortunately our insurance agent doesn't seem to think that will get me a lower life insurance premium.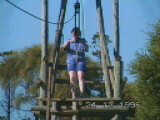 The thing you must see if you're ever in Warrnambool is the adventure playground. Whether or not it's the biggest in the country I don't know, but I do know this: the flying fox is bloody fantastic. They have foxes for both adults and children, absolutely free, and they're probably the most fun you can have on your own in a public place without getting arrested. There's nothing quite like trusting your life to some rope, a rubber seat and an old wheel, and throwing yourself off a twenty foot wooden tower.
There's also various other play equipment there, a maze, a lake, things to climb and so on, but really all of this pales into insignificance when compared to the flying fox.
Next to the playground is the beach, one of the nicest beaches I've ever been to; clean, lots of sand, and no rocks in the water. Plenty of seaweed in neat piles on the sand, perhaps that should be Warrnambool's new export product.
It might get very crowded after Christmas, but in the few days before, the beach was almost deserted. We leapt in with enthusiasm.
Ah yes, the water was what you might call a little cool – it is, after all, the Southern Ocean – cold water direct to you from the Antarctic. Isaac was happier out of the water though; knocking down every castle I built, and cheerfully eating sand.
The shops in Warrnambool hold few surprises. All the usual stuff you'd find in any larger suburban shopping area. The only notable things were that the banks have worked out a much more sensible way of queueing for bank machines than the usual footpath spaghetti "guess the fastest queue" games we play in Melbourne; there was a giant cowboy figure on top of one of the shops; none of the bakeries appeared to be open Boxing Day morning; apparently the supermarkets don't stock condoms; and McDonald's was closed on Christmas Day! Shocker.
Christmas itself was good, it was a gloriously partially sunny, warmish but not too warmish almost-summer day. The exchange of presents was lengthy, and there was the usual result of wrapping paper and assorted other trinkets all over the floor (along with a large number of mustard seeds – don't ask). Christmas lunch at the Black Onion, oops Black Olive, about the only open place in town, was filled with kind of joyous mirth that can only come from people who have completed the rest of their Christmas lunch, and are therefore permitted to plough into a piece of truly great and legendary mud cake.