They often say that life doesn't come with an instruction manual. I discovered during the birth that this is not entirely true. Attached to the placenta was the following leaflet:
CONGRATULATIONS on the delivery of your new BABY-1000 CRYING MACHINE.

The BABY-1000 is programmed to be easy to use and care for. Use this chart as a guide to how to operate your BABY. Basic interaction with your BABY-1000 is highlighted in green: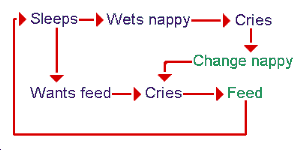 Additional interaction can take place, such as talking to the BABY-1000, gazing at it lovingly, and swapping stories with other owners of the BABY-1000.